one picture tonight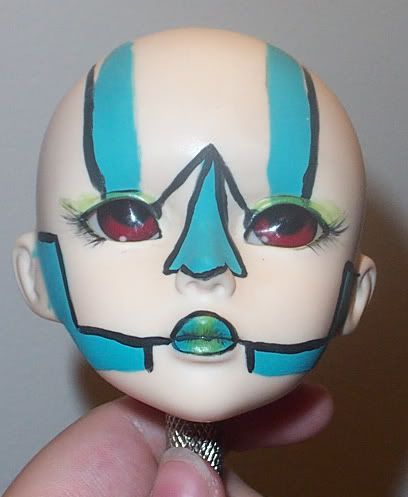 Not happy with the nose being crooked. not sure i even like the nose. but the eyelashes! Zomg! better then i've done before! Very happy with them and the makeup coming along. need smaller lines for int he lips though.
My robot girl is coming along. Now to find her a cheap resin or plastic body i can mod, and i will be happy. :) i think i may have found one for under 200 usd, and will take layaway pymts by several months! Whoo! so like $25 a paycheck here i come! and another head will have a body! 1 down, 2 to go! and i'm full of dolls. :)
p.s. i know bahu said no more dolls. said nothing about getting _bodies_ for heads i already have! :) Trying to decide if i want the Mau head (Cat head) to be female or male.... maybe i'll make my other head Male. i need a male doll in there somewhere...